Hair Restoration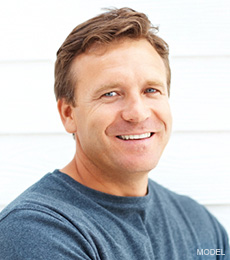 For men with thinning hair or baldness, board-certified plastic surgeon Dr. Brian P. Tierney offers hair restoration at his Nashville, TN practice. Hair restoration is a time-tested way to restore thicker, fuller hair and a more attractive hairline. Dr. Tierney understands the important role that a full head of hair plays in a man's self-esteem. He's made it his mission to provide straightforward, effective hair restoration to men who simply don't have time for baldness.
Would you like to find out what Dr. Tierney and hair restoration can do for you? Request a consultation online, or call our office at (615) 320-8585.
Hair restoration is a time-tested way to restore thicker, fuller hair and a more attractive hairline.
What Is Hair Restoration?
At Tierney Plastic Surgery, Dr. Tierney performs follicular unit transplantation, or FUT. During a FUT procedure, hair is transplanted from a donor site, which is typically located at the back or sides of the scalp. These areas are less susceptible to balding.
Hair restoration is a procedure that requires a strong attention to detail and an individualized approach. Although most male pattern baldness follows a predictable timeline, each patient has his own unique physical characteristics, concerns, and goals. During your consultation, Dr. Tierney reviews your medical history and spends plenty of time talking to you about your hair loss history and your desired outcome. He gives you a detailed walkthrough of your procedure so you know exactly what to expect.
Dr. Tierney also performs a procedure called temporal peaks restoration. This surgery restores the hairline by supplementing the temporal peaks. These areas, located near the front of the scalp, are often where hair loss begins, and the thinning can lead to self-consciousness. Dr. Tierney works with you to develop an approach that suits you and your needs.
Your Hair Restoration
Dr. Tierney performs hair restoration using local anesthesia. Some patients also opt for sedation, but it's not required. The length of a session varies depending on the desired outcome. Smaller sessions last for only a few hours, while larger sessions may last for the entire day. Prior to your procedure, Dr. Tierney gives you an estimation so that you can plan accordingly.
During the procedure, the donor hair is first clipped short. The area is then harvested using a thin strip of skin. Once removed, this strip is immediately placed in a container of fluid that is closely matched to the body's own natural chemistry. This keeps the follicles alive and viable while the procedure is continued. Dr. Tierney then closes the donor area, usually with sutures.
Dr. Tierney removes the follicular units, which each contain between 1 and 4 hairs, and prepare them for placement. Dr. Tierney meticulously places these follicles in the recipient areas where baldness has occurred. This is generally the most time-consuming part of the procedure, although patients are able to take breaks as needed.
Real Patient Photos
See the beautiful results Dr. Tierney can create for you with our gallery of real patient before-and-after photos.
View Photo Gallery
Hair Restoration Recovery & Results
Following a FUT procedure, the donor site is typically bandaged to protect the incision as it heals. Dr. Tierney typically prescribes pain medication, but some patients don't require it. Patients are advised to sleep with their heads elevated for the first several nights to minimize swelling and discomfort.
Dr. Tierney gives each patient special instructions for showering, shampooing, and grooming the transplanted hair. Most patients can resume their normal routines immediately, although Dr. Tierney urges patients to refrain from drinking and smoking for several days following the procedure. It's also important to practice good sun protection during this time. By day 10, the grafts are considered permanent. Dr. Tierney schedules follow-up visits around this time. The results of your hair transplant may continue to develop and improve over the course of a year as the transplanted hair grows along with your natural hair.
Back to Top