Dermal Fillers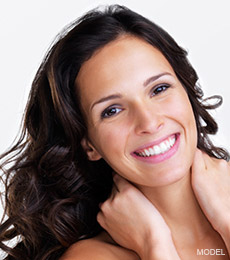 Injectable dermal fillers such as Restylane® and JUVÉDERM® are popular in and around Nashville, TN with women and men who want to diminish the look of wrinkles and add a subtle lift without undergoing surgery. Although these products are wonderful ways to enhance the results of cosmetic surgery, they're also popular on their own for beautiful improvement without downtime.
If you live in Nashville and have questions about dermal fillers, request a consultation online, or call our office at (615) 320-8585.
Dr. Tierney performs all injections himself. This ensures a level of safety, comfort, and effectiveness not found at many other medical spas.
What Are Dermal Fillers?
Dermal fillers are injectable treatments that are used to fill in wrinkles or add volume beneath the skin. These products do not require recovery time, and their quick treatments make them popular with busy people from all walks of life. These products are different from BOTOX® Cosmetic, which relaxes the muscles that cause wrinkles.
At Tierney Plastic Surgery, patients may choose 1 or a combination of the following dermal fillers:
JUVÉDERM: This injectable gel uses hyaluronic acid, a substance found naturally within the skin, to plump wrinkles from the inside. JUVÉDERM is well-suited to moderate facial wrinkles, including the creases that run from the nose to the corners of the mouth, called nasolabial folds. Its results can last for up to 1 year.
JUVÉDERM VOLUMA™ XC: This specially formulated version of JUVÉDERM also uses hyaluronic acid. However, VOLUMA XC is intended to replace lost volume in the cheeks, a common side effect of aging. On its own or in conjunction with other dermal fillers, VOLUMA XC can add a lift and youthful-looking volume to the cheeks. The results of VOLUMA can last for up to 2 years.
Restylane: Restylane is another hyaluronic acid-based injectable that's especially effective at treating the lines that develop around the mouth. Restylane can also be used to add shape and volume to the lips, or fill under-eye hollows. The results of Restylane can last for up to 6 months.
Sculptra® Aesthetic: This filler uses poly-L-lactic acid to add structure and volume to the face to alleviate age- or disease-related loss of volume. Sculptra Aesthetic is intended for deeper injection, so it's not appropriate for lines and wrinkles. The results of a Sculptra Aesthetic treatment can last for up to 1 year.
Fat: Today's fat injections are a wonderful, lasting way to add subtle volume to your face. Dr. Tierney first harvests fat from one part of your body, such as your abdomen, using liposuction. Using a special process, he then purifies the fat, finally injecting it into targeted areas of your face. Because they use your own fat, these injections are especially safe.
Real Patient Photos
See the beautiful results Dr. Tierney can create for you with our gallery of real patient before-and-after photos.
View Photo Gallery
Your Dermal Filler Treatment
Dr. Tierney performs all injections himself. This ensures a level of safety, comfort, and effectiveness not found at many other medical spas. During a dermal filler treatment, Dr. Tierney first cleanses the targeted area of the face, and in some cases applies a topical anesthetic. He may make marks on your face to guide his injections. Dr. Tierney then makes the injections, which may sting slightly, although most of the fillers contain a numbing agent. Following the injections, Dr. Tierney may give you ice or a cold compress to minimize swelling.
Treatments with dermal fillers are brief and straightforward, with most lasting only around 15 to 30 minutes.
Dermal Filler Recovery & Results
Due to the minimally invasive nature of dermal fillers, these treatments aren't associated with lengthy recovery times. The overwhelming majority of patients return to their routine activities immediately, with some reporting minor side effects such as redness, itching, swelling, and tenderness near the injection site. These symptoms typically resolve within a few days. The results of your dermal filler treatment can last anywhere from several months to 2 years. During your consultation, Dr. Tierney gives you a more detailed idea of the results you can expect
Back to Top