ThermiRF™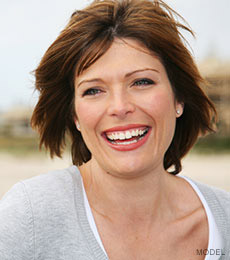 FDA-cleared ThermiRF is a leading-edge, minimally invasive treatment that uses radiofrequency energy for targeted fat reduction and skin tightening. Nashville, TN plastic surgery specialist Dr. Brian P. Tierney is 1 of the first 2 plastic surgeons in the Nashville region to offer this versatile technique, which can treat a variety of areas of the body - from excess fat around the neck and chin to a stubborn bra bulge that doesn't respond to diet or exercise.
If you live in or around Nashville and skin tightening and fat reduction interest you, request a consultation online at Tierney Plastic Surgery. Or you can call our office at (615) 320-8585 to schedule an appointment.
ThermiRF is a leading-edge, minimally invasive treatment that uses radiofrequency energy for targeted fat reduction and skin tightening.
What Is ThermiRF?
ThermiRF relies on radiofrequency energy to heat fat cells beneath the skin. Over several weeks, the damaged fat cells are cleared away by your lymphatic system. ThermiRF is ideal for people who wish to focus on small, targeted trouble spots, or for those who have noticed early signs of aging but are not yet ready for facelift surgery or other, more invasive options. ThermiRF can be used on many areas of the body, although it's most commonly used to improve the look of the lower face, including a double chin, excess skin and fat around the neck, and jowls. An independent study published in the Journal of Drugs in Dermatology concluded the device "is a safe and effective technology for treating skin laxity in the neck and jowls."
ThermiRF technology can also be used for nonsurgical feminine rejuvenation. ThermiVa® can treat many symptoms of vaginal and vulvar laxity to maximize your personal confidence.
ThermiRF Before & After Photos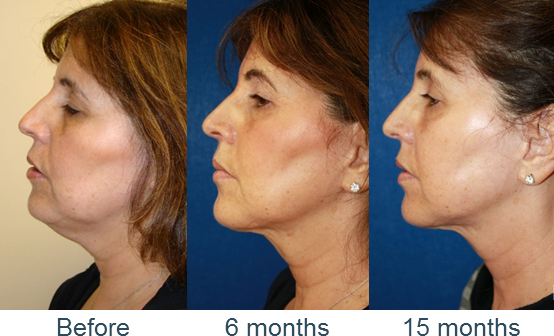 ThermiSmooth™
Patients who want tighter skin without an incision can also find results with ThermiSmooth. ThermiSmooth uses the same radiofrequency energy above the skin to stimulate collagen production and tighten the delicate tissues of the face. ThermiSmooth is especially popular for wrinkle reduction around the eyes and mouth.
Your ThermiRF Treatment
Minimally invasive ThermiRF requires only local anesthesia. Using a fine needle, Dr. Tierney inserts a small probe beneath the skin. This probe releases radiofrequency energy, melting fat cells and stimulating the skin's production of collagen. During this time, patients report a sensation of warmth that is not uncomfortable. The procedure length can vary depending on the part of the body involved, but sessions rarely exceed 1 hour.
Real Patient Photos
See the beautiful results Dr. Tierney can create for you with our gallery of real patient before-and-after photos.
View Photo Gallery
ThermiRF Recovery & Results
Following a ThermiRF treatment, most patients get back to their routine activities immediately. With the exception of mild, temporary swelling, ThermiRF does not produce any significant side effects.
Some patients require more than 1 treatment for optimal results, but many are satisfied with the outcome of a single session. Many people report immediate, preliminary improvement after treatment, but the ultimate results of ThermiRF typically develop over the course of 3 to 6 months. ThermiRF is also a great complement to other non-surgical treatments, such as dermal fillers. During your consultation, Dr. Tierney spends plenty of time discussing your goals and expectations, and he works with you to develop a treatment plan that aligns with your budget, lifestyle, and desired outcome.
Back to Top