Breast Augmentation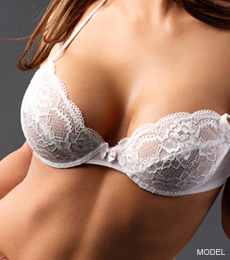 Breast enhancement is more popular than ever thanks to continued improvements in breast augmentation and breast implants. In Nashville, TN, Dr. Brian P. Tierney is a board-certified plastic surgeon offering this safe, proven way for women to find long-term satisfaction with the size of their breasts. Whether you'd like to give a boost to naturally small breasts or improve the look of breasts that have been impacted by pregnancy and breastfeeding, now is a great time to enhance your form with breast augmentation.
Would you like to meet with Dr. Tierney in Nashville and find out what breast augmentation can do for you? Request a consultation online, or call our office at (615) 320-8585.
Results That Speak for Themselves
Review Dr. Tierney's surgical results to see what's possible for you. In addition to our online gallery of before-and-after breast augmentation pictures, additional photos are available to view at our office.
This patient got 265 cc silicone implants that were placed under the pectoral muscle.
What Is Breast Augmentation?
Breast augmentation is a surgical procedure that uses breast implants to enhance the size and shape of the breasts. In the United States, breast implants come in 2 varieties:
Saline implants use a silicone shell filled with a sterile saltwater solution. These implants are inserted empty and filled once they're inside the body, which enables Dr. Tierney to use a small, discreet incision.
Silicone implants are made of cohesive silicone gel. Sometimes called "gummy bear" implants, most people agree that they look and feel more natural than saline implants.
Within these 2 categories, implants are also available in a variety of sizes, shapes, and textures. During your consultation, Dr. Tierney asks you many questions about your aesthetic goals. He evaluates your natural breasts and helps you decide on the combination that may work best for you. In some cases, he may recommend a breast lift in addition to or instead of a breast augmentation to reposition the breasts to a perkier position. Breast augmentation is also often combined with a tummy tuck and liposuction as part of a mommy makeover procedure
Breast Augmentation Cost
Breast augmentation generally costs between $5,000 and $7,000. However, there are always exceptions. Your cost can vary depending on the type of implants you choose and the surgical method used by Dr. Tierney. During your consultation, he provides you with a written quote that reflects your requests.
Your Breast Augmentation
Breast augmentation is an outpatient procedure which is performed under general anesthesia. Dr. Tierney begins the procedure by making an incision in 1 of 3 possible locations:
Along the lower border of the areola (called a periareolar incision)
Along the crease beneath the breast (called an inframammary incision)
In the armpit (called a transaxillary incision)

The type of incision Dr. Tierney uses during your surgery depends on the implants you choose as well as your own physical characteristics and goals. Prior to surgery, he explains which incision he thinks is best.
After making the incision, Dr. Tierney creates a pocket within the breast to place the implant. This pocket may be beneath the breast tissue only (subglandular) or partially beneath the chest muscle (submuscular). Each placement has its own set of advantages and disadvantages, and Dr. Tierney walks you through the pros and cons of each prior to your surgery.
Once he places the implants, Dr. Tierney examines them for symmetry and closes the incisions.
Breast augmentation patients are among the most satisfied in the country, with hundreds of thousands of women undergoing the procedure each year.
Breast Augmentation Recovery & Results
Following surgery, most patients feel groggy and "out of it" as anesthesia wears off and pain medication begins to take effect. Dr. Tierney advises patients to rest in a comfortable recliner or in bed with plenty of pillows for support, although it's important to move around a few times a day to prevent blood clots.
Soreness and swelling are normal and begin to diminish as the implants settle into place. Discomfort is manageable with prescribed pain medication.
Throughout the initial week of recuperation, the body continues to heal and you'll begin to see swelling and bruising go down. However, it's not uncommon for women to feel that their breasts are high or swollen for up to 6 months.
During a follow-up appointment, Dr. Tierney replaces your surgical dressings with a special surgical bra to support your breasts as they heal. Most patients are able to return to work within 1 week, although women who work more physical jobs will likely require more time off.
Today's breast implants can last for many years, but they are not permanent. Over time, they may begin to weaken or lose their shape – a process which can be monitored with regular ultrasound or MRI imaging. Most women begin to consider revision surgery 10 or more years after their breast augmentation. Dr. Tierney helps you decide when the time is right.
Breast augmentation patients are among the most satisfied in the country, with hundreds of thousands of women undergoing the procedure each year. Post-surgery, these women report enhanced feelings of femininity, higher levels of self-confidence, and even improved sexual well-being. The body you've always wanted is within your reach with breast augmentation from Dr. Tierney.
Back to Top