Breast Lift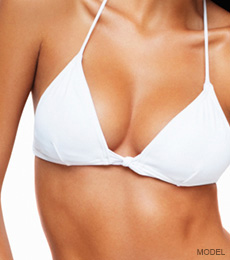 Dr. Tierney has helped hundreds of women to have their higher, perkier breasts restored through mastopexy, or surgical breast lift. At his Nashville, TN practice, he performs this popular procedure to create the full, firm shape and elevated position of youthful breasts. Although sagging breasts are a normal part of life for most women, a breast lift can help instill feelings of personal comfort and confidence with or without the use of implants.
Would you like to find out what breast lift by Dr. Tierney can do for you? request a consultation online, or call our office at (615) 320-8585.
A breast lift can help instill feelings of personal comfort and confidence with or without the use of implants.
What Is a Breast Lift?
Breast lift is a surgical procedure that lifts and reshapes the breasts and nipples. A breast lift is a suitable option for many different women, as it can address the following concerns:
Pendulous or sagging breasts
Breasts that have lost firmness over time
Nipples that point downward or extend below the breast crease
Asymmetrical breasts
If you're satisfied with the size of your breasts, breast lift surgery may be performed on its own. However, patients who would like to improve both the size and the position of their breasts may combine a breast lift with breast augmentation.
Your Breast Lift Surgery
Breast lift surgery is typically performed under general anesthesia. The surgery is an outpatient procedure, so you may return home the same day.
Each breast lift procedure begins with an incision around the areola (the darker skin around the nipple), and possibly additional incisions down and beneath the breast. There are several possible incision patterns that Dr. Tierney may use (pictured below), and he'll explain his choice during your consultation or preoperative appointment.
Doughnut Incision for Breast Lift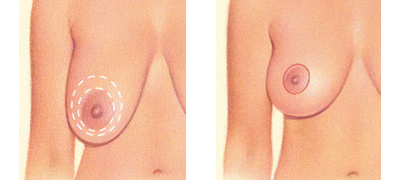 The doughnut incision may be used when combining a breast lift with implants, for reducing minimal sagging, and making enlarged areolas smaller.
Lollipop Incision for Breast Lift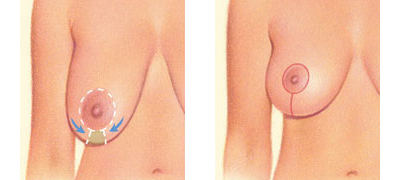 The lollipop incision or vertical lift is typically used to reduce moderate sagging.
Anchor Incision for Breast Lift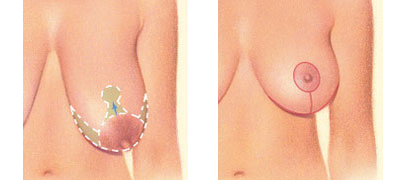 The anchor incision is used to provide the greatest amount of lift.
Once he makes the incisions, Dr. Tierney removes excessive loose or sagging skin and elevates and reshapes the breasts, along with the nipple and areola. The nipples remain attached to their underlying structures to preserve sensation and function. He may also reduce the diameter of large areolas if the patient requests it. Finally, the incisions are closed using absorbable sutures.
Real Patient Photos
See the beautiful results Dr. Tierney can create for you with our gallery of real patient before-and-after photos.
View Photo Gallery
Breast Lift Recovery & Results
Although you may return home the same day as your breast lift surgery, it's important to take it easy during the first few days of your recuperation. As your anesthesia wears off, you may feel groggy and sore. This is normal, and Dr. Tierney advises patients to rest comfortably in bed or a favorite recliner.
Discomfort is manageable with prescribed pain medication, and it diminishes over the course of several days as your body heals. Many patients report itching around the incision sites or on the breasts, the sensation of numbness, and swelling or firmness. These side effects are temporary and can last for several weeks.
During a follow-up appointment, Dr. Tierney issues you a special surgical bra to wear as your breasts heal. Most patients feel comfortable returning to work and other light activities within a week, but the recuperation period is different for everyone. Dr. Tierney provides you with more detailed instructions prior to your surgery.
The results of breast lift surgery can be maintained for many years with good personal habits. Although gravity will eventually take its toll, a breast lift can vastly improve the look of the breasts and postpone further aging. Maintaining a steady weight and investing in a few supportive bras will help prolong your beautiful results.
Back to Top